My friends, meet a thing of beauty:  The Beneficent Bella Crochet Baby Blanket.  The word 'delicious' comes to mind.  The texture. The color.  Sigh.  AND it's easy.  What more is there to love?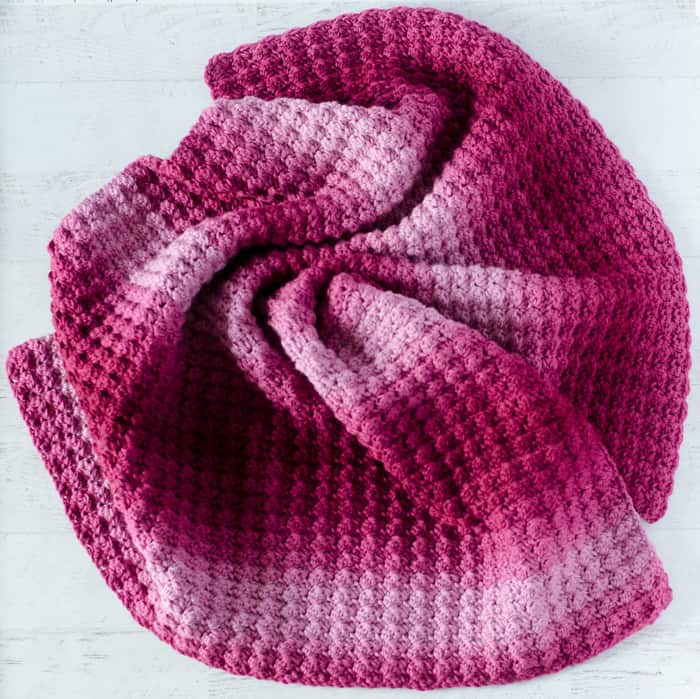 This might be the easiest baby blanket to crochet.  It's almost hard to believe that something this beautiful could be so easy and so inexpensive to make.  Pick up 2 skeins of worsted weight Red Heart Ombre yarn (this one is in Anemone color).  Grab a J hook and the easiest pattern ever and you're on your way to crochet nirvana–or mindlessly crocheting while watching Netflix.  I can't even.  I'm in heaven.
Let's talk about the name of this sweet crochet baby blanket.  Several months ago my teen nieces and I cooked up a brilliant idea.  I would design a pattern and supply them with yarn and they would crochet baby blankets to donate.  They get service hours–and more importantly (in their words) FREE YARN.  And I get an extra set of hands or two for more projects on the blog!  Seriously.  We all feel like winners here.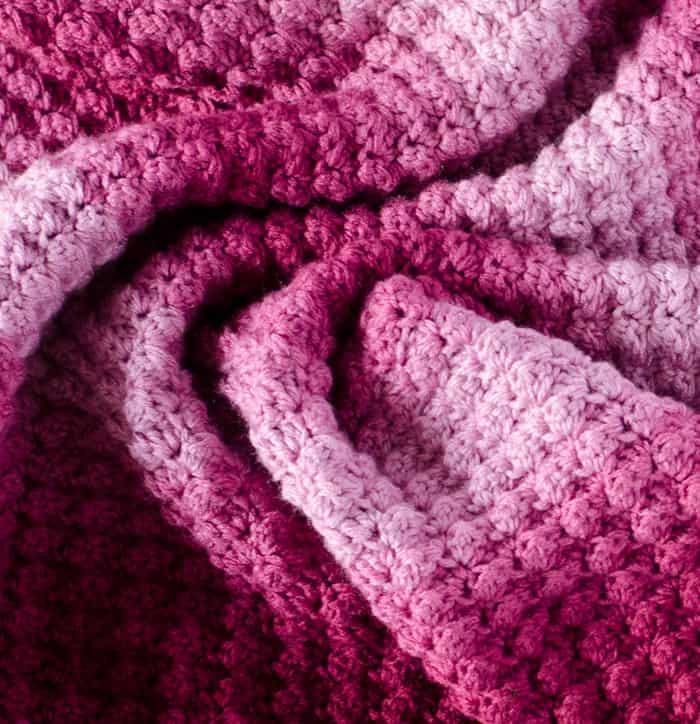 This little beauty was crocheted by my niece, Arabella.  Because I like catchy little names for crochet numbers here, I liked the words "Bella Baby Blanket" but apparently I'm not the first to have this brilliant idea.  So on the quest for "B' adjectives, I found the word "Beneficent" which means 'generous, or doing good' and it fit so perfectly that I HAD to use it.  Even if none of us will remember how to spell it!  But there you go:  The Beneficent Bella Crochet Baby Blanket.  A mouthful of beautiful crochet goodness you can't wait to sink your hook into!  Does it even get any better?  Probably not!
More Free Baby Crochet Patterns
If you love this Friendly Crochet Spider pattern, you might also like to check out these other patterns for babies.  You can find all our Baby Crochet Patterns here.

1. Strawberry Lemon Peel Baby Blanket  //   2. Octopus for a Preemie //   3. Sedge Stitch Baby Afghan
And now… to crochet your new love… this delightful, Beneficent Bella Crochet Baby Blanket!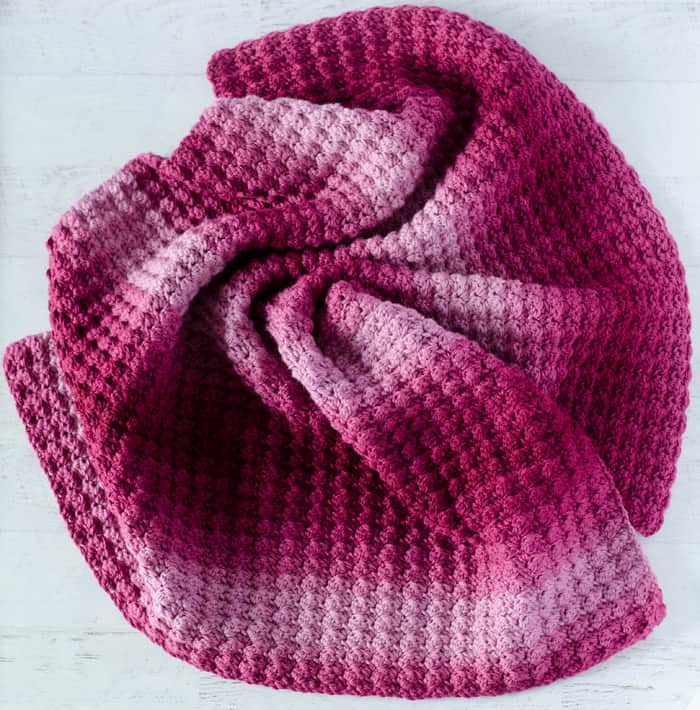 Purchase an ad-free printable version of the Beneficent Bella Crochet Baby Blanket Here
Beneficent Bella Baby Blanket
Here is what you will need:
US J10/6 mm crochet hook 
19 oz Worsted Weight Yarn, I used Red Heart Ombre Yarn in Anemone Color
Tapestry needle and scissors
Resources and tutorials you may find helpful in following this pattern: Crochet Abbreviations, US to UK Crochet Conversion Chart.  Find links to stitches on the "Tutorial" menu: Getting Started will show basic stitches used in many patterns and Crochet Stitch Dictionary shows our growing collection of crochet stitch tutorials.
Finished baby blanket is approximately 29″ square.   If you'd like yours larger, add stitches in multiples of 3.
Crochet Baby Blanket
Ch 101
Row 1: (sc, 2dc) in 2nd ch from hook, skip next 2 ch, *(sc, 2dc) in next chain, skip next 2 ch, repeat from * until last 3 ch, skip 2 ch, sc in last ch, turn (100 st)
Row 2:  ch 1, (sc, 2dc) in 1st st, skip next 2 st,  *(sc, 2 dc) in next st, skip next 2 st, repeat from * across until last 3 st, skip next 2 st, sc in last st, turn (100 st)
Repeat row 2 until the blanket is square.
Fasten off and weave in ends.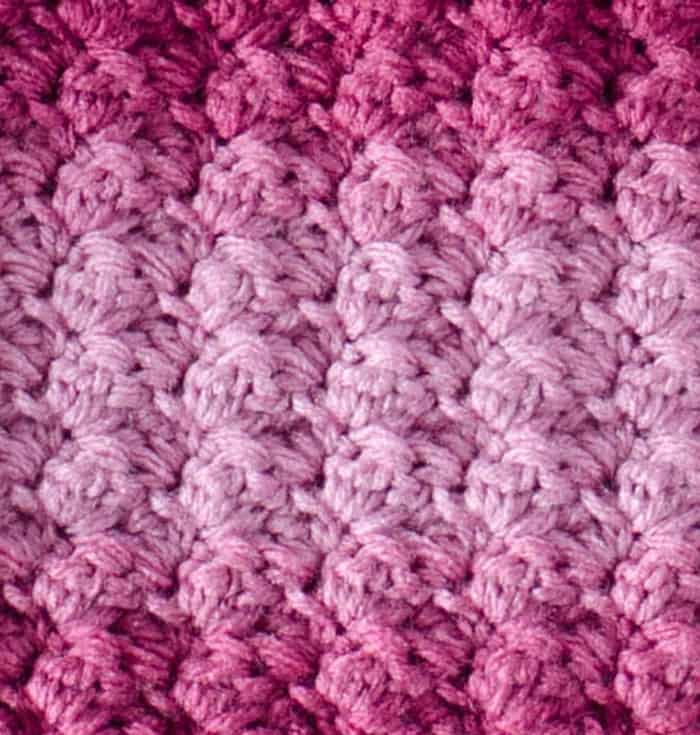 Purchase an ad-free printable version of the Beneficent Bella Baby Blanket here!
I love seeing your finished projects!  If you enjoyed making the Beneficent Bella Baby Blanket I'd love to see yours on Instagram, be sure to tag me @crochet365knittoo.  If you are on Facebook, stop over to the Crochet 365 Knit Too Facebook page or pop over to the Crochet365KnitToo Club and share a photo!  I'd love to see your work!
Pin Now Crochet Later ⇨