Fall decorations are my absolute favorite! I love the pumpkins, scare crows, corn stalk, etc….they all look so rustic and pretty. Crochet pumpkins are no exception to the fun fall decor. You can make in any color you wish.
I used the same pattern for all 3 pumpkins, but just stopped at different rows. I knew that every pumpkin looks unique, so I needed my pumpkins to be slightly different also. And it's amazing how different they can look just by being 1 row off.
The Crochet Pumpkin Decor pattern is worked in the round from the bottom up. The pattern was actually inspired by my Pumpkin Beanie pattern, which uses the same stitches. The pumpkin is stuffed with Poly-Fil, then the top is closed up.
You have the option to crochet a stem or use a stick. I have seen some cute pumpkins online with a small stick glued to the center. Either way is super cute!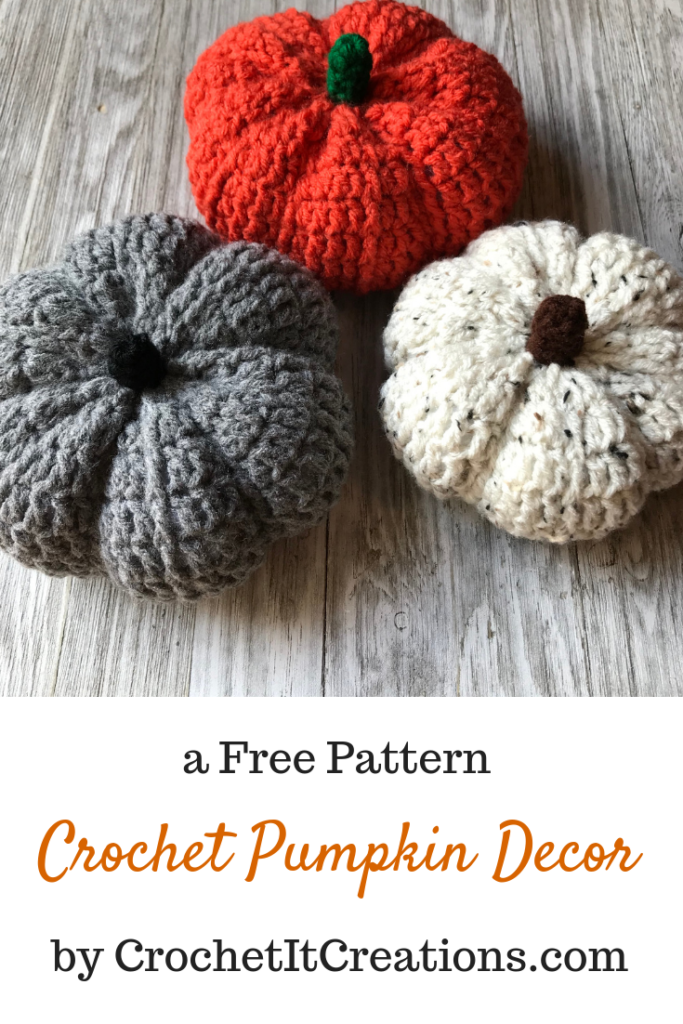 Materials Needed
Medium #4 weight yarn in contrasting colors

H 5.0mm crochet hook

Scissors

Tapestry needle

Poly-Fil Stuffing
Gauge
Stitches Used/Abbreviations (US Terms)
DC – Double Crochet

SC – Single Crochet

FPDC – Front Post Double Crochet

Join – Slip Stitch to 1st Stitch
Pattern Notes
Beginning chain DOES NOT count as st

Pumpkin is made in the round from the bottom up. Stuff with Poly-Fil and close the top. Make divots for the pumpkin texture and attach stem.

Increase by DC in top of stitch and FPDC around that same stitch, this gives 2st in 1.

On rows that do not have an increase, FPDC is made around next stitch.

The 3 pumpkins in the photo above are following the same pattern, but stopped at various rows to get different sizing. Example: the white stopped at row 12, the grey stopped at row 13, and the orange completed row 14.
Pumpkin Decor Crochet Pattern by Crochet it Creations
Rnd 1: ch 2, dc 12 times in magic circle. Join. Pull circle tight. (12)
Rnd 2: ch 2, *dc, FPDC in same st* repeat around. Join (24)
Rnd 3: ch 2, *dc in 2 st, FPDC in same st* repeat around. Join (36)
Rnd 4: ch 2, *dc in 3 st, FPDC in same st* repeat around. Join (48)
Rnd 5: ch 2 *dc in 4 st, FPDC in same st* repeat around. Join. (60)
Rnd 6 – 14: ch 2, *dc in 4 st, FPDC around next st* repeat around. Join. (60)
Finish off leaving a long tail to close and make divots.
Attach tapestry needle to the end of the long tail. Weave in and out of last round stitches. Do not pull all the way tight. Use PolyFil to stuff the pumpkin. Close the top by pulling tight. Most likely it will not close all the way, which is fine. Close as far as you can and sew an X to close more.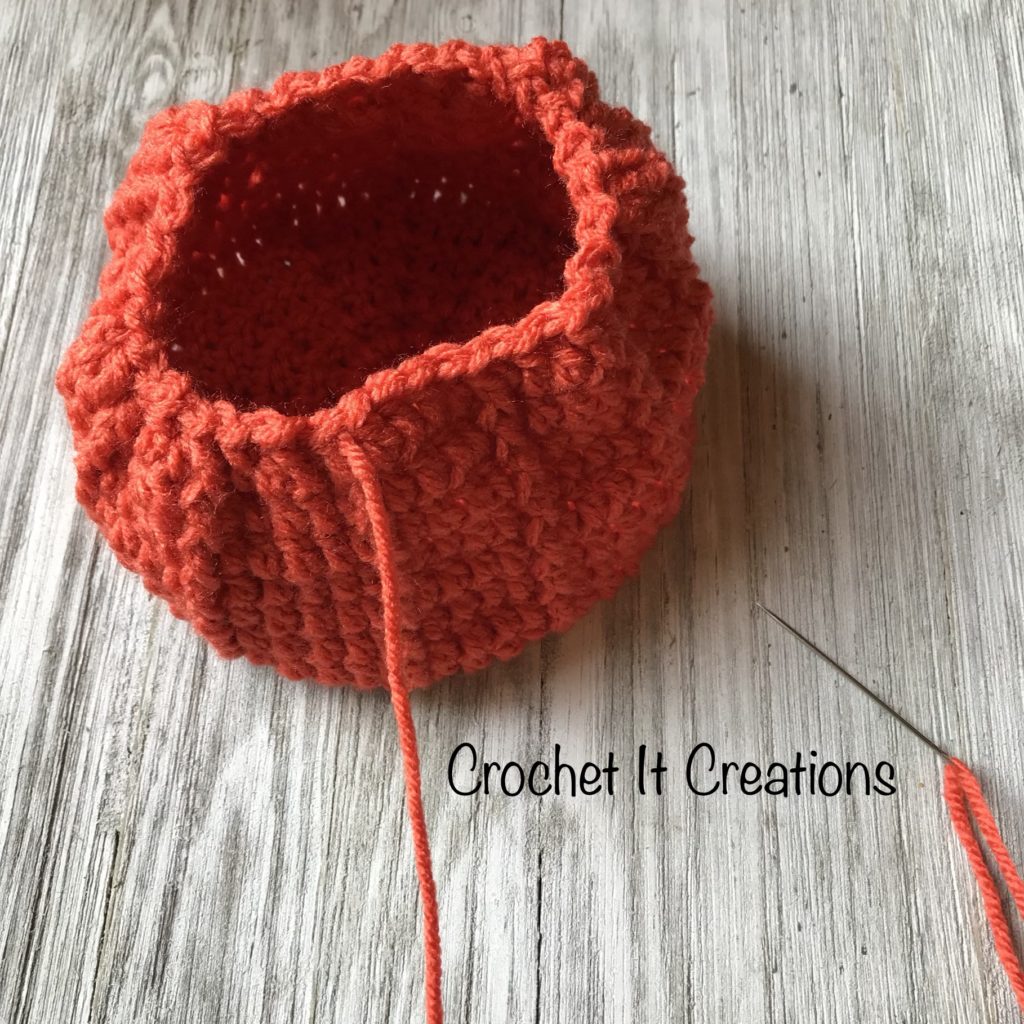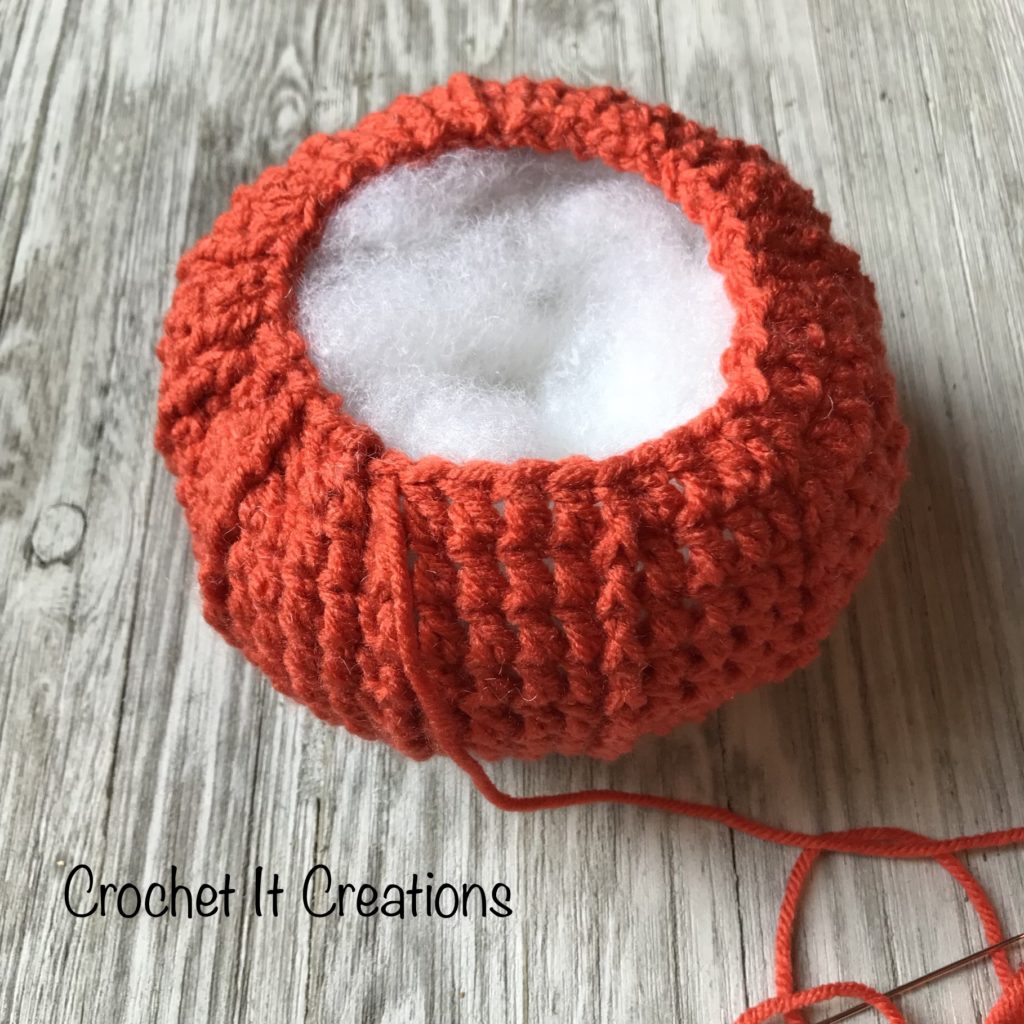 Now make divots for the pumpkin texture – Do this by sewing from the top down the post stitches to the bottom. Pull tight once at the bottom. Stick the tapestry needle through the bottom up to the top closure. Repeat every other post stitches. Tie a few knots and weave in to finish off.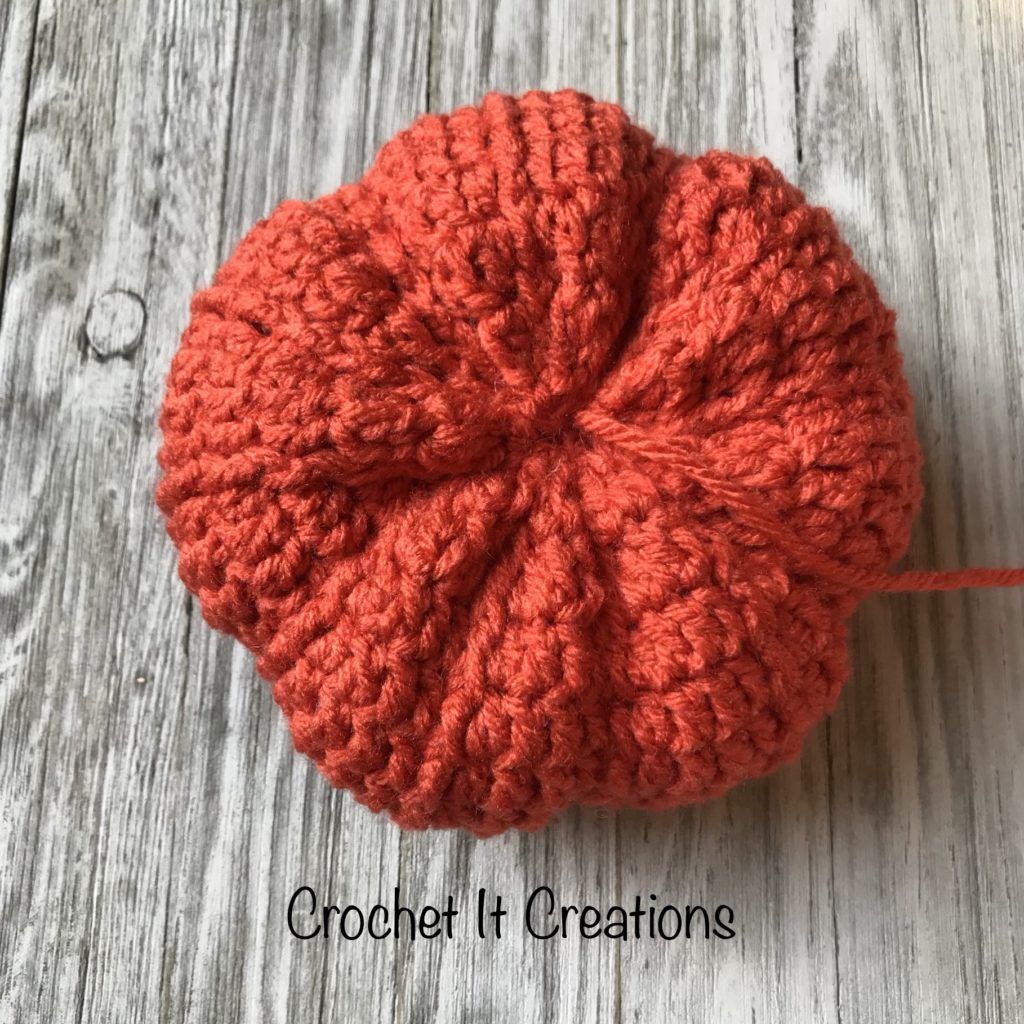 Making the stem
Rnd 1: ch 1, sc 6 times in magic circle. Join. Pull magic circle tight. (6)
Rnd 2-4: ch 1, sc around. Join (6)
Finish off leaving a long tail to attach. Sew stem to center of pumpkin.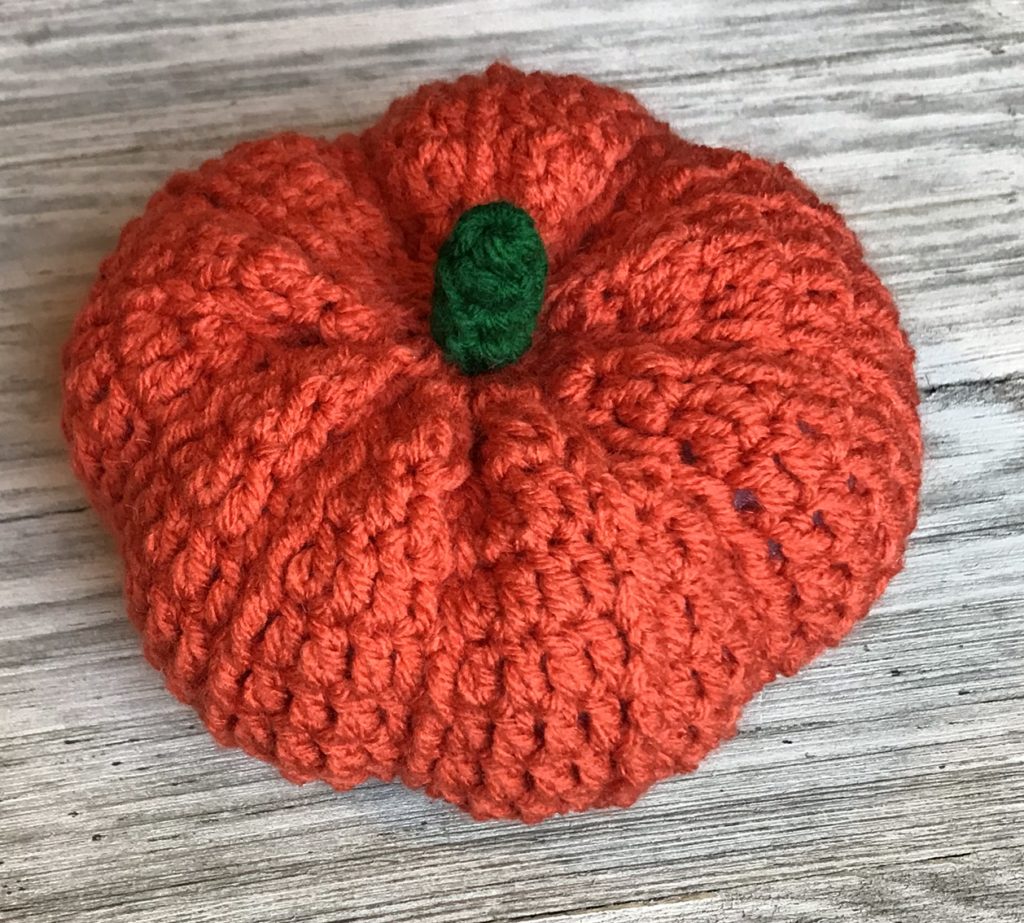 Save for later or share with others using the share buttons at the top and bottom of post. If you have any questions please comment below or you can email me at jessica@crochetitcreations.com.
I love to see photos of your work and read your comments. Follow Crochet It Creations on all of your favorite social media sites! Join my Crochet It Creations Crochet Friends Facebook group to further connect!
You may sell your items made from my patterns. Please do not use my photos as your own to sell your work. A link back to my site is much appreciated when selling your items from my patterns. I hope you enjoy!
This site is supported by advertisers and may contain affiliate links. See copyright & disclosure policy here for more information.